The color palettes of spring, summer, and fall are brimming with plenty of striking and stunning colors. But during the winter, most of the flowers and trees we admire all year go dormant, leaving behind neutral tones that aren't as exciting as the vibrant colors of spring and fall. As the days grow colder and grayer, the winter landscape can seem quite gloomy, and with this dreadful picture, it's no wonder dreams of spring remain in the forefront your mind. Despite the absence of most of nature's color palette, you can still transform your yard into a scene that brings beauty and life into your winter landscape with these five landscaping ideas.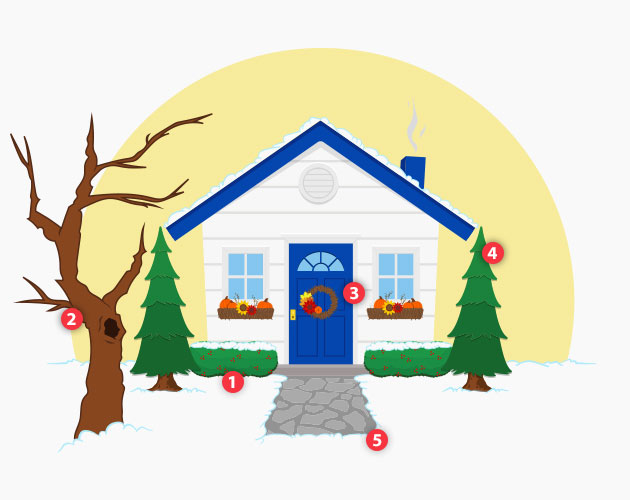 Add some color to your landscape. Try planting red, yellow, or orange berry-bearing evergreen hollies. There are many varieties available—from small shrubs to bushes the size of trees. A crabapple tree whose fruit can stand up to the harsh temperatures of winter is another great option for someone who wants to add color back into their landscape.

Take advantage of your bare deciduous trees. Without their leaves, some trees can really display their unique and beautiful shape—from a well-shaped symmetrical tree that looks like it's reaching for the sky to an ancient, twisted oak that spreads its limbs across the horizon. And don't forget tree bark—it can also add texture and visual interest to your landscape.

Use colorful outdoor containers or window boxes. You can plant ornamental grasses, miniature evergreens, or vegetation strong enough to survive the winter in colorful planters to bring liveliness to your yard. Gardeners in warmer climates can even plant colorful flowers or edible plants, such as kale or curly parsley.

Make evergreen trees your new friend. While deciduous trees lose their leaves in the fall, evergreens provide continuous color throughout the year. Add a traditional green evergreen to your landscape, or for a unique look, plant a gold or blue conifer.

Highlight hidden features. During the winter, yards can take on a different appearance once leafy deciduous trees are bare. Take this time to highlight your brick and stone hardscapes that may go unnoticed during the other season. Also, ornamental fences, trellis, and arbors tend to stand out during this time of year when they're not surrounded by foliage.
Winter lacks the vibrancy of other seasons, but a well-designed landscape that takes into account the changes that occur through the year can leave you with a beautiful yard that keeps thoughts of spring at bay. Adding just a little bit of color frees up time for you to admire your yard from the warmth of your home as a blanket of snow enhances your picturesque winter landscape.
Sources: Better Homes and Gardens; EBSCOHost Home Improvement Resource Cente: Liven Up Your Winter Landscape; HGTV; Landscaping Network.
For more information on our sources, please contact us directly.