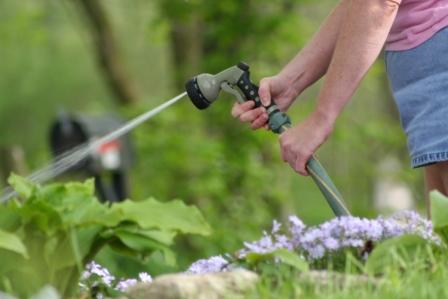 The next step in green landscaping is to consider your irrigation options.  Drip irrigation, also called trickle irrigation, directs a slow release of water to the soil surface or directly onto root systems.  Spray irrigation, the most common alternative, wastes a substantial amount of water by evaporation and is not suitable for most perennials, as the plants grow up and block the sprayers.  Which is the better green landscaping choice?
Installation and Conservation.  Drip irrigation far outperforms the alternative—installation is fast and inexpensive, and the system waters deeply while using considerably less water than spray irrigation.

Water Wise.  Sustainable landscaping techniques pair choices like a drip irrigation system with drought-tolerant plants, so that deep watering twice a month is often sufficient.

Plant Health.  Drip irrigation assists with the development of deep root systems that encourage a stronger, healthier, and more drought-resistant landscape.

Savings.  Your natural landscape will naturally lead to a substantially lower water bill.
Another important addition to a green landscape, especially important with drip irrigation, is mulch.  Mulch it is simply a blanket of organic matter placed on the soil to insulate it and hold in moisture, and can include anything from woodchips to leaves to coffee grounds.  Mulch is inexpensive and it may be the best investment you make in your green landscaping project because it keeps weeds at bay much longer than compost alone.  The ideal mulch is a mixture of 50% compost and 50% woody material, often available at your local dump.  The woody material in this mix readily decomposes, unlike wood chips.
Some of the most popular mulch products used by organic gardeners are those processed at the local waste disposal site.  These mulches, made from what goes in your green waste bin, are recycled and are then often certified as organic if the mixture meets certain standards.  If you don't want to buy mulch, most coffee houses will give you their organic coffee grounds for free.  These provide a rich source of nutrients and can be applied directly onto the soil as mulch.  Other mulch materials include straw, sawdust, and lawn and yard clippings.  Here are a few tips to help you get mulching in your yard underway:
Do a little research and choose appropriate mulch material for the plants that you have.

Never mound-up mulch against plants.

Introduce things gradually—test it out and see what works.  Start with 2 inches of compost and evaluate the progress.