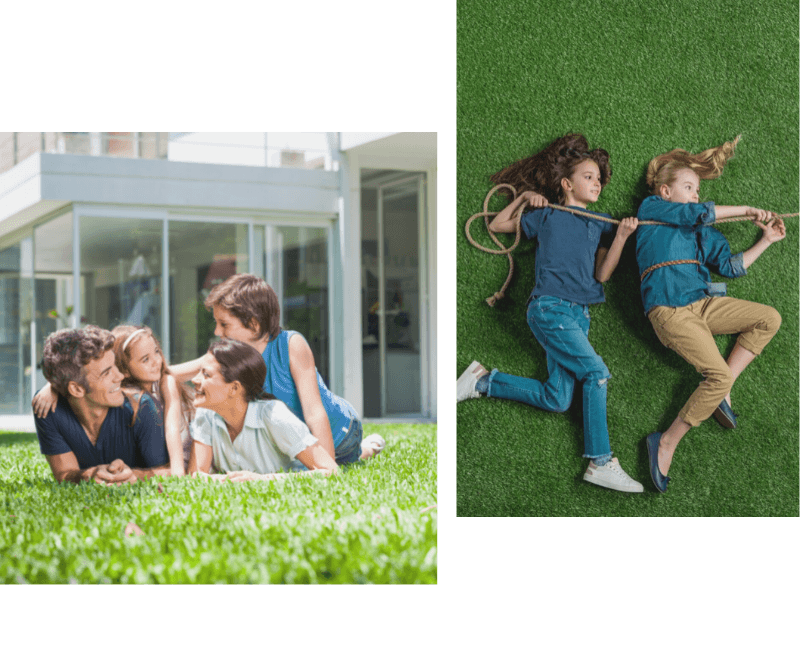 The best Artificial Grass in Van Nuys, CA
Experience the Best of Artificial Grass with Green Field Forever Inc in Van Nuys, CA
When it comes to quality, durability, and eco-friendly solutions for landscaping, Green Field Forever Inc stands out with its premium offerings in Artificial Grass. Over the years, homeowners, businesses, and public spaces have transitioned from traditional lawn maintenance to the convenience and aesthetics of Artificial Grass.
Choosing Artificial Grass is not just about opting for a greener alternative; it's about enjoying a lawn that stays lush, vibrant, and maintenance-free all year round. Gone are the days of mowing, watering, and dealing with pest invasions. With Green Field Forever Inc's Artificial Grass, you invest in beauty, durability, and an environmentally-friendly solution.
Embrace a lawn transformation that speaks of modern aesthetics and functionality. Experience the best in Artificial Grass today with Green Field Forever Inc.
Residential and Commercial Artificial Grass Landscaping in Van Nuys, CA
Want your lawns to look beautiful and green all year with minimal maintenance? Then, artificial turf may be the choice for you. Looking good all year round, Artificial Grass is an easy, no complications alternative to natural grass, pavement, gravel or concrete. Save precious time and money with no watering, mowing, edging or fertilizing needed with artificial grass.You'll get to spend your weekends relaxing and spending time with your family enjoying your kids and pet-friendly Artificial Grass.
Artificial grass provides different varieties which appear more like authentic natural grass than ever before. We offer a large selection of colors, patterns, and textures available. Our artificial grass selection is designed to resemble natural grass as closely as possible. And with its realistic texture and patterning, it can resemble a thick, fluffy layer of natural grass, making your lawn appear more beautiful and appealing.
Here are a few of the other factors more house owners are now thinking about artificial grass:
First, artificial grass is safe for family and pets.
Artificial Grass is allergy-friendly. There are no irritants, pollen, or mud to handle.
Lower Maintenance expenses. No mowing, no watering, no fertilizing, no pesticides, no weeds, no concerns.
Artificial Grass remains green and best all year.
Artificial Grass is Green for the environment. For example, there is no carbon monoxide gas from lawn mowers.
Artificial Grass has grown in appeal by more than 35% every year and quickly ends up being the go-to service for the typical property owner.
Now is the best time for you to think about making a modification in how you will invest your Saturdays.
What are the Benefits of Having Artificial Grass?
Green Field's artificial grass selection is more than just synthetic grass; we offer a wide selection of residential and commercial artificial grass according to the requirements that fit better with your lifestyle and use. Choosing Green Field's artificial grass not only saves money and precious resources it also allows you more free time for the essential things in life. For example, instead of complaining about mowing the lawn on the weekend, our artificial landscape is essentially maintenance-free. No more mowing! No more watering! Plus, you will lower your water and power bills! So it's easy to see why Green Field's artificial grass is the best landscaping solution.
Artificial grass is a cost-effective long-term solution that will make your neighbors and friends envious of your lawn. Serving Los Angeles County, we offer complete installation packages, including removing your existing lawn and preparing a new base or installing directly onto your tiles or concrete slab. Our artificial grass installers are certified, experienced installers that can guarantee high-quality finishes for your new yard. Call us today to receive a free estimate on your new landscaping improvement.
Save Water and Money with Artificial Grass
With Green Field's artificial grass installation services you will save money and take care of the environment! Say goodbye to high water bills, you will save money as well as doing your part to conserve water and help the environment in the process. Water conservation in California is important, and installing synthetic turf will benefit both the environment and your economy. It's a win-win!Say goodbye to high water bills, you will save money as well as doing your part to conserve water and help the environment in the process. Water conservation in California is important, and installing synthetic turf will benefit both the environment and your economy. It's a win-win!
Installation Process of Green Field's Artificial Grass in Van Nuys, CA
Green Field Forever Inc is renowned for its top-tier artificial grass products, and our installation process is equally commendable. Proper installation ensures that your synthetic turf looks great, lasts long, and provides optimal performance. Here's an overview of how we set up our premium artificial grass:
Site Assessment: Before any work begins, our team evaluates the site to determine the specific requirements and challenges. This allows us to offer customized artificial grass solutions tailored to each space.
Ground Preparation: We start by removing the existing lawn and leveling the ground. Proper leveling is crucial to ensure the artificial grass lies flat and offers a natural appearance.
Base Construction: A sturdy base is vital for drainage and stability. We lay a mixture of crushed rock and sand to ensure your artificial grass remains in place and drains efficiently.
Rolling Out the Turf: Once the base is set, the artificial grass is rolled out meticulously, ensuring there are no wrinkles or bubbles. Every roll is precisely aligned to give a seamless look.
Securing the Grass: Using high-quality adhesives and fasteners, we secure the artificial grass to the base. This prevents any shifting and keeps the turf intact regardless of foot traffic or weather conditions.
Finishing Touches: Once the artificial grass is laid, we trim the edges for a perfect fit and infill the turf with sand or rubber granules. This gives it a plush feel and ensures the grass fibers stand upright, mimicking natural grass.
Quality Inspection: After installation, a thorough inspection is conducted. Green Field Forever Inc takes pride in ensuring every artificial grass installation meets our high standards of quality and aesthetics.
Post-Installation Guidance: Our commitment doesn't end once the grass is installed. We provide homeowners with guidelines on how to care for their new artificial grass and maximize its lifespan.
At Green Field Forever Inc, we believe that the beauty of artificial grass lies not just in its appearance but also in its installation quality. By choosing us, you're investing in a flawless setup process that guarantees the longevity and beauty of your synthetic lawn.
Comparing Traditional Grass to Green Field's Synthetic Solutions in Van Nuys, CA
In the ever-evolving landscape of modern gardening and landscaping, a significant debate has emerged: traditional grass versus artificial grass. While both have their merits, Green Field Forever Inc's synthetic solutions present compelling arguments in favor of the latter. Let's delve deeper into this comparison.
At the heart of every lush green lawn is either the charm of natural grass or the brilliance of Green Field's artificial grass. Traditional grass, with its natural texture and earthy scent, has been the default choice for years. It grows, breathes, and changes with the seasons, offering a slice of nature right in our backyards.
However, the 21st-century homeowner seeks more than just aesthetics; they desire efficiency, longevity, and eco-friendliness, areas where Green Field's artificial grass excels. Unlike its natural counterpart, synthetic turf remains consistently green, regardless of the weather or season. Say goodbye to muddy patches in the rainy season or dry, yellow patches in summer's heat.
The maintenance contrast is also striking. The time, effort, and resources required to mow, water, fertilize, and weed a traditional lawn can be overwhelming. Green Field's artificial grass, on the other hand, offers a reprieve from this relentless cycle. A simple rinse is often all that's needed to keep it looking pristine.
Eco-conscious homeowners are drawn to artificial grass for its minimal water requirement. In a world grappling with water scarcity, every drop saved makes a difference. Additionally, the absence of pesticides and fertilizers means a lesser chemical footprint, making synthetic solutions an environmentally-friendly choice.
In terms of initial costs, traditional grass might seem more budget-friendly, but factor in the ongoing maintenance costs, and the scales tip in favor of artificial grass. Green Field's synthetic solutions are an investment, promising years of hassle-free beauty and functionality.
In conclusion, while the allure of traditional grass remains, the modern, efficient, and sustainable attributes of Green Field's artificial grass make it a formidable contender. As we move towards a future that values both aesthetics and the environment, the choice becomes clear: it's time to go synthetic with Green Field Forever Inc.
Our Projects in Van Nuys, CA