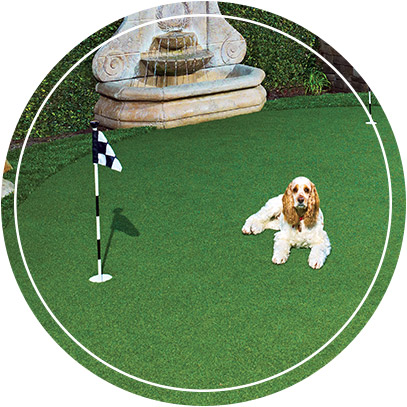 Why Turf is Pet Friendly
Living with man's best friend is great for endless cuddling and tail wagging, but having a dog could mean bad news for your lawn. When Sparky feels like digging, he won't stop to consider all the time you spent watering and mowing your yard. And when he wants to run outside after you've just laid down potentially toxic fertilizer, you'll have to wrangle him in.
But what if we told you the doggone days of dug up lawns are a thing of the past? With SP pet-friendly turf installation, you can say goodbye to these backyard woes and more:
Done with Digging
Often, pups will paw at the ground to get at prey, whether it's burrowing chipmunks or crawling insects that have infiltrated your yard. These pesky critters are attracted to real foliage, and installing SP Turf® takes away that appeal. As a result, Sparky has no prey to hunt.
Even if bugs and small animals are not the cause of your pet's digging, you can still have a nice, hole-free lawn. Dogs can't dig through turf, ensuring no muddy paws enter your beautiful home, and your backyard stays lush and green.
NON-TOXIC INFILL
Green Field Turf infill is non-toxic and antimicrobial, making it completely safe for pets and kids alike. In fact, it will even prevent the growth of bacteria and germs.
Plus, because bugs and critters aren't attracted to artificial grass, there's no need for pesticides. Now you won't spend hours listening to a barking dog who just wants to roam outside amid the toxic repellents!
MESSES ARE NO
MESS AT ALL
Pet waste is inevitable, but it won't cause stains for your artificial turf. System Green Field
Turf's unique draining system lets liquids fall through the lawn better than real grass.
Meanwhile, you can manually scoop up solid waste. If you're worried about odors, just use one of the many pet-friendly turf cleaners available to you. Many veterinarians sell non-toxic and biodegradable enzymes that will get the job done.