Your house color is a backdrop for your garden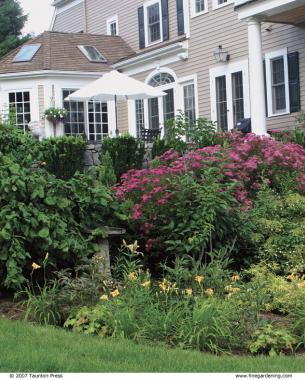 Another, easier way to link your garden and house is to match your plant colors to house colors. As you select a plant palette, your biggest decision may be to determine how many colors to include. I find that simple color schemes often work best. Palettes may be sophisticated, natural, or dramatic, depending on your style. I recommend buying a color wheel at an art-supply store and using it to identify colors that will offer pleasing harmony or contrast to your house.
House colors that are easiest to integrate with a garden are the greens, browns, and beiges of nature. When a house already blends with the surrounding landscape, the color provided by flowers is needed only for contrast. In this instance, most colors that show up well against your house will work.
Pastel-colored houses are colorful yet can also softly meld into the natural landscape. When dealing with a pastel-colored house, the garden's color scheme should relate to—or contrast nicely with—the house color. A cool house color, such as blue, green, or purple, works well with cool plant colors because they are harmonious. Similarly, houses painted in warm colors of light yellow, pink, or apricot would harmonize with plantings that feature warm colors. To liven things up, combine colors that are opposite each other on the color wheel. A blue house paired with orange flowers, for example, provides maximum contrast.
Bright house colors are dramatic and should be paired with equally spectacular colors in the garden. Repeat the house colors as closely as possible and for as long as possible through the year. With a bright house color, I like to include rich plantings of annuals in long-lasting, vivid hues. Sometimes I also add slightly deeper shades of these colors, especially through the use of foliage.
Muted colors or those with gray in their pigment are more versatile as backdrops than pure pastels or very bright colors. An exact match between plants and paint is not as important with muted shades; they tend to coor­dinate with slightly differing hues, much as a tweed coat does.
Brick houses often fit in this muted category. Usually relating to the "hot" side of the color wheel—orange, red, and yellow—brick houses are best planted with other hot colors. Precisely matching the brick color and plantings is not necessary.